With all the content available at the touch of a button or the swipe of a screen, it can be hard to prioritize everything you might want to watch. But for the movies and TV listed below, time is running out—at least to be able to stream them on Netflix. We've picked five gems to make sure you catch before they're gone. If you've seen all five, you also might want to check out
Crash
(2004),
Lonesome Dove
(1989),
Steel Magnolias
(1989),
Donnie Brasco
(1997) or Richard Linklater's
Waking Life
(2001). Just please let that horrible 1998 Godzilla movie escape unnoticed.
Here are our five picks for movies that are leaving Netflix in June.
(For TV and movies
coming
to Netflix in June, click
here
. For TV and movies coming to Amazon Prime, click
here
.)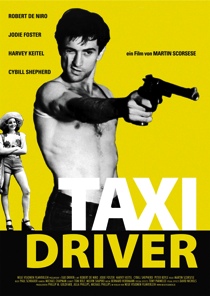 1.
Taxi Driver
Year:
1976
Director:
Martin Scorsese
Taxi Driver
was Scorsese's breakthrough: a seething condemnation of alienation—not to mention New York's descent in the 1970s into a crime-ridden hellscape—delivered with such clinical coldness that when Scorsese's star (and longtime collaborator) Robert De Niro finally explodes, it's unspeakably upsetting. If
Taxi Driver
now feels slightly overrated, it's only because the movie's DNA has crept into so many subsequent filmmakers' efforts. Scorsese grew up loving Westerns, and
Taxi Driver
could be his version of
The Searchers
—except his man-out-of-time finds no redemption.—
Tim Grierson





2.
The Silence of the Lambs
Year:
1991
Director:
Jonathan Demme
In the face of grotesque sequels, lesser prequels and numerous parodies,
The Silence of the Lambs
still stands as a cinematic work of art among crime dramas. Winning the five gold rings of Oscar-dom (best picture, best director, best actor, best actress, best screenplay) Anthony Hopkins' portrayal of the murderous Hannibal Lecter proves the worth of surrounding one of cinema's greatest thespians with a stellar supporting team. Director Jonathan Demme deftly wields the brush of that talent to bring audiences into the dark, sadistic world of Dr. Lecter while leaving them gasping at the twists and turns of novelist Thomas Harris' gruesomely wonderful story. As what happens with all great films, second and third viewings fail to diminish the ride.—
Tim Basham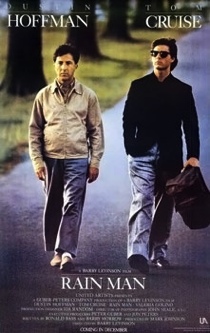 3.
Rain Man
Year:
1988
Director:
Barry Levinson
In this Oscar-winning Best Picture, Charlie Babbitt (Tom Cruise) embarks on a road trip with his newly discovered brother, Raymond (Dustin Hoffman). It's not an intentional happy-go-lucky jaunt, though—Charlie is simply trying to get more of his recently deceased father's $3 million estate, most of which he left to the autistic Raymond. Charlie gets to learn more about his brother and his mental tics like having to stop everything in order to watch
Jeopardy!
and buying underwear strictly from Kmart. Hoffman is undeniably good, and his performance as a savant earned him a Best Actor in a Leading Role award. But Cruise's portrayal of a high-strung professional who transforms into a caring brother is also a treasure. The tender moments are just as important as the comical—and the blend of laughter and tears are skillfully spread out in this 1988 classic.—
Shawn Christ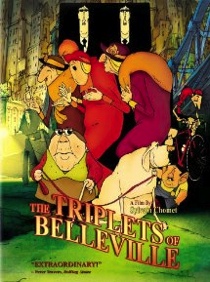 4.
The Triplets of Belleville
Year:
2003
Director:
Sylvain Chomet
Country:
France
Language:
French
Hearkening back to the glory days of silent cinema with a story that's both brilliant and wickedly funny,
The Triplets of Belleville
is one of the most inventive and enchanting animated movies you'll see. It captures the spirit of both Jacques Tati and children's picture books with a pitch-perfect sense of timing, finding the elusive pause that precipitates the release of a fantastic belly laugh. The few bits of dialogue are in French (so I guess it's a foreign film), but they're so unimportant they're not even subtitled. The movie pokes fun at Americans' obsession with bigness (and big food), but it taunts the French in equal measure.—
J. Robert Parks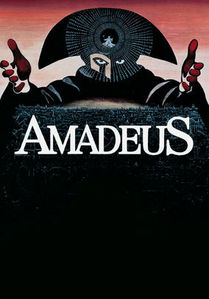 5.
Amadeus
Year:
1984
Director:
Milos Forman
The fine line between genius and insanity is the subject of this big-budget costume drama that proved just how hip classical musicians can be. Milos Foreman tickles the vulgar underbelly of the sublime and the result is Thomas Hulce's braying, chittering laugh as the wild-child prodigy, Wolfgang Mozart. F. Murray Abraham's portrayal of Antonio Salieri's descent into madness fueled by jealousy is the perfect foil. Lust, envy, greed—all of the deadly sins are here, set to some of the greatest music ever written.—Joan Radell


Movies and TV Leaving Netflix June 1
Bram Stoker's Dracula (1992)
City of Ghosts (2003)
Dance with Me (1998)
Deep Blue Sea (1999)
DeRay Davis: Power Play (2010)
Dream Lover (1994)
Drugs, Inc.: Season 2­3
Ever After: A Cinderella Story (1998)
Frankie and Johnny (1991)
G.I. Jane (1997)
Garfield and Friends: Vol. 1­2
Hatchet II (2010)
I Escaped A Cult (2014)
Ink Master: Season 1
Inside Combat Rescue: Season 1
Last Action Hero (1993)
Picture Perfect (1997)
Platoon Leader (1988)
Rain Man (1988)
Reign Over Me (2007)
Silence of the Lambs (1991)
Snatch (2000)
Soul Survivors (2001)
Swept Away (2002)
Syriana (2005)
Tank Girl (1995)
The Great Queen Seondeok
The Perfect Husband: The Laci Peterson Story (2004)
The Phantom of the Opera: Special Edition (2004)
The Rocketeer (1991)
The Triplets of Belleville (2003)
Waking Life (2001)
Leaving Netflix June 6
Cirque du Soleil: Worlds Away (2012)
Crash (2004)
Leaving Netflix June 15
Space: Unraveling the Cosmos (2014)
The River Why (2010)
Tin Man
Leaving Netflix June 17
Dummy (2002)
Leaving Netflix June 20
Amadeus (1984)
Collateral Damage (2002)
Lonesome Dove (1989)
Practical Magic (1998)
The Guilt Trip (2012)
Leaving Netflix June 22
Madonna: The MDNA Tour (2013)
Stand Up Guys (2012)
Leaving Netflix June 28
Biutiful (2010)
Leaving Netflix June 29
Iron Man: Armored Adventures: Season 1­2
Texas Chainsaw (2013)
Leaving Netflix June 30
Donnie Brasco (1997)
Godzilla (1998)
Hansel & Gretel: Witch Hunters (2013)
Jack Reacher (2012)
National Security (2003)
Steel Magnolias (1989)
Taxi Driver (1976)
The Baby­Sitters Club: Season 1